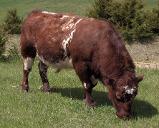 Ar Su Lu Brass 608
I'm not sure if I can say enough about old "Eeyore". He had a great disposition and was very easy to work with. His pedigree contained some great bulls (Gizmo X Vann X Goldspear X Mastercharge). Phenotypically he was expressively muscled, moderately framed, and long bodied package. His daughters made great cows. They were smooth made, feminine, and muscular at the same time. They stayed in great condition and milked very well. His calves did well on feed and had enormous ribeye's with minimal external fat.
THF, PHAF, DSC Non-Certificate Bull Semen Available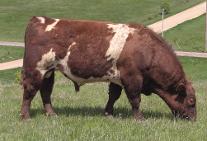 K-Kim Gold Xchange
A rugged made bull with a big foot. His calves had moderate birth weights and grew really well. We realized his true value in the daughters that we kept back from him. They have made some of the best production oriented females that we have had to date. As an added bonus they have a lot of style to them as well. He is sired by K-Kim Allure and was a natural calf out of the Elbee Bessie F120, the foundation of the Foxxy's.
THF, PHAF, DSC Non-Certificate Bull Semen Available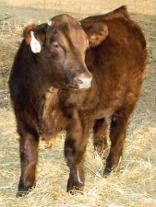 A&T Lone Ranger
Sired by GFS Red Cloud 7026 and out of a great Dover Ranch Female. He was a good bull that we lost WAY too soon. He worked flawlessly on heifers. His calves were full of vigor and grew well. We kept back a few of his daughters and they have turned out to be pretty good females. Luckily Lone ranger Made a trip to Genex Dakota Sire in Mitchell before is passing.
THF, PHAF, DSF Non-Certificate Bull Semen Available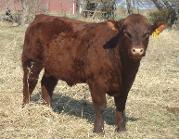 Mapleton President 174A
Native genetics mixed with Canadian influence. We used president on our heifers and a few cows. His calves came easy and grew well. He wasn't able to really leave his mark before having to go to market, but we were able to bank a small amount of semen for future use in our herd.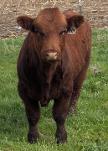 Waukaru Distinction 0119
Distinction was a solid red, ruggedly made, big footed bull with a lot of length and performance while being very clean shouldered and smooth made. His calves grew very well and had a little style to them. We kept back a number of females from hem. They have turned out to be very angular females with even udders.
THF, PHAF, DSF Non-Certificate Bull Semen Available
Shalom's Expedition 351
Expedition was a solid red, polled son of SS Expedition 8121 (Venture X Augusta). His dam was from the same cow family as Turkey Ridge Tomcat. Expedition's calves had a lot of style. They were long bodied, very extended through the neck and smooth over the shoulder . In terms of numbers and performace, Expedition was definatelly ahead of his time.
THF, PHAF, DSF Non-Certificate Bull Semen Available
GB Dazzler 120
Roan and horned, 120 was the first shorthorn bull I owned. He was a full brother to GB Orchid. That might explain why his daughters made great cows. He shows up in the pedigrees of quite a few of the cows we have in the herd .