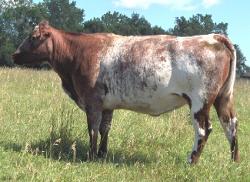 Marge's
In 2001 I purchased 3 heifers from the Edward's family by Letcher, SD They made some great cows and Marge was my fist pick of the group. She always weaned a good calf and stayed in great condition. Her pedigree was backed by some greats like Touche', Dividend's Impact, Irish Mist, and the Augustas. She left behind a few daughters and grand daughters that are keeping the line going.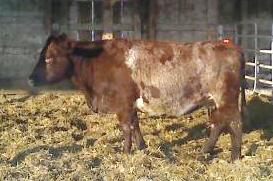 Tangerine's
It is hard to find cattle with the rib shape and dimmension the original Tangerine cow had. After 9 calves her average calving interval was 357 days. Her pedigree contains Pacer Performance Sires: Byland Big Bud and CCS White Tornado. Her daughters are doing just as well as she did. Tangerine was flushed in the fall of 2010. We have some embryos stored by Saskvalley Bonanza, Muridale Buster 14K, and MSF Equity. I also flushed a daughter in 2012 and have embyos by Brass and Saskvalley Bonanza. I can't wait to see how this cow family continues.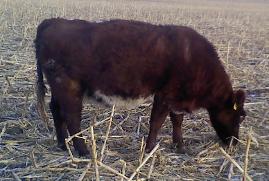 Golden Lace
Golden Lace's pedigree has some great sires including : Armstrong Gold, Eagle, Gunsmoke, Marc IV, Gus 80C, Quane. On the cow side she comes out of the great White Rose family. Phenotypically she is even more impressive. This cow has done some really great things here and has left us some great females. We also used a grandson as a herd sire for a few years. She was flushed at the age of 9 to Saskvalley Bonanza and Muridale Buster 14K.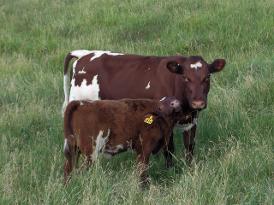 Orchid's
The Orchid's were developed right here from upgrading one of our commercial cows. The begining of the Orchids goes back to P3, a daughter sired by GB Dazzler 120. 120 was a full brother to the great GB Orchid. This family has been impressive and given us some really great females. One of the best was 247, it might be just a coincidence but she realy has brought it 24-7.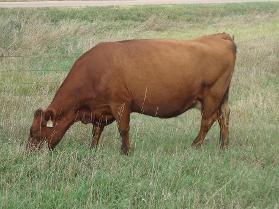 Grannie's
The grannies have always been my fovorites. The grannies trace back to shorthorn pair that my dad bought at the salebarn before I can remember. The original cow was a part of the commercial herd for over ten years and her daughter for even longer. A large portion of the commercial herd traces back to her. These genetics have been too good for too long and have a lot to offer. I only wish I knew the the genetics of the original Grannie. This family should be around for many gernerations to come.